2023-2024 ECU/Loessin Playhouse Season
It is with great pleasure that we present the 62nd season of the ECU/Loessin Playhouse. This season will bring a wide range of classics and contemporary works to our stage while entertaining and exposing audiences to a diverse selection of playwrights and perspectives. Thank you to all who submitted proposals for the season and to the Production Advisory Committee for their thoughtful deliberations.  It's going to be a very exciting year in SOTD!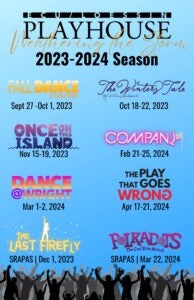 Subscriptions for the 2023-2024 Season available now until October 1st
Exciting news! Our season subscriptions are now on sale, and we can't wait to share the upcoming performances with you. If you're a previous subscriber, keep an eye on your inbox for an email with your customer number and pin, making it easy for you to renew online. If you prefer to speak to someone directly, our box office team is ready to assist you. Stay tuned for the arrival of our brochures in the mail, packed with all the details you need. Don't miss out on the best seats in the house – secure your subscription today!
Individual tickets are now on sale for each of our 2023-2024 season productions
This season features a tempest of performances that show the rainbow of talent from our students. Our budding professionals harness the energy and intensity to create electrifying shows that will leave you in awe. Get your tickets and come 'weather the storm' with us.
---
Individuals requesting accommodation under the Americans with Disabilities Act (ADA) should contact the ADA coordinator at least 48 hours prior to the event at 252-737-1018 / ada-coordinator@ecu.edu
---
Live Streaming Playhouse Performances this year!
Select performances will be available to stream from this year. Now you can enjoy our live productions from anywhere in the world. We are proud to offer this option for distance education students, alumni, and family and friends that are unable to attend in person. (Click on the image to purchase.)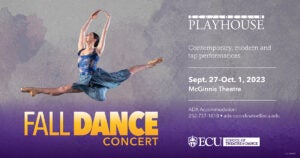 Live Stream Fall Dance Concert
Friday, Sept 29 @ 7:30pm
Sunday, Oct 1 @ 2:00pm
Onsale beginning Wed, Sept 13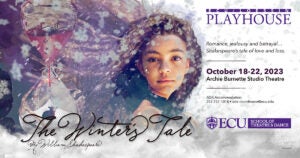 Live Stream The Winter's Tale
Friday, Oct 20 @ 7:30pm
Sunday, Oct 22 @ 2:00pm
Onsale beginning Wed, Oct 4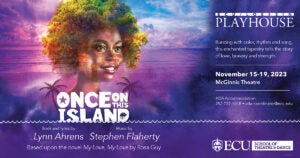 Live Stream Once On This Island
Friday, Nov 17 @ 7:30pm
Sunday, Nov 19 @ 2:00pm
Onsale beginning Wed, Nov 1
---
From the Director
This academic year marks the 62nd season of Theatre and Dance at East Carolina University.  Our 2023-2024 season speaks to our human connection, emerging victories through hardship, and rising strong as demonstrated through theatre and dance productions. We open our season with Fall Dance 2023, celebrating the choreographic talent of our faculty and the technical brilliance of our students.  Our first play is William Shakespeare's The Winter's Tale, a flawed romance, that explores themes such as betrayal, loss, and forgiveness through the prism of family relationships.
Our musical offerings include the Olivier and Tony Award-winning one-act staged musical, Once on This Island. This story simultaneously delves into themes of the potency of community and the struggles caused by social class division, evoking deep emotions of both sorrow and joy to a stirring musical score.  Our next show is Stephen Sondheim's iconic musical Company that was nominated for a record 14 Tony Awards. This modern musical presents the relationships of 5 couples that are mutual friends to Bobby, who is celebrating his 35th birthday in New York and examining the value of relationships. George Furth's story and Sondheim's lyrics are sophisticated and intelligent presenting a hilarious look at relationships and life.
We end our season with The Play That Goes Wrong, that erupts with irreverent humor and satire as the fictional, an accident-prone amateur troupe experiences many technical malfunctions leaving the audience in stitches.
 These productions were carefully selected for their intriguing stories, their timeless themes, and the consistent throughline of 'weathering the storm.' Some storms are represented literally, and some storms are more metaphysical, just like the many trials we face in life. All of humanity experiences ominous clouds, threatening thunder, and worrying rain, but through it all we persevere, withstanding the downpour and coming through our trials stronger. The performance art we create, the stories we choose to tell on our stages, allow us to celebrate 'being alive' and enduring.
This is my seventh year as Director for the School of Theatre and Dance (SOTD) and Producing Artistic Director for ECU's prestigious Loessin Playhouse. I love being a part of the thriving artistic community at East Carolina University and getting to know our patrons is one of the many highlights of this experience. I am thrilled by the continued growth of our artistic community, and I look forward to welcoming all of you into our theatre for this year's season.
On behalf of the entire faculty, staff, and students of East Carolina University's School of Theatre and Dance, I hope you will join us as a subscriber for this year.  If you have been a subscriber in the past, please consider renewing with the knowledge that your support is essential and extremely valued. As a theatre subscriber, you are not only the audience but a vital part of our artistic family. Thank you for your unwavering support and trust in us to provide you with extraordinary and unforgettable productions.
Thank you!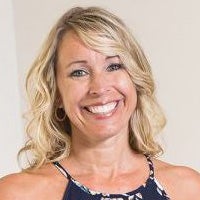 Jayme Klinger Host
Director | Artistic Director | Producer