John Shearin Memorial Endowment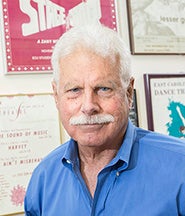 John D. Shearin III, professor, director and leader of the School of Theatre and Dance for 27 years, died on April 9, 2017.
John touched so many lives and his legacy and love of the theatre will continue to be impressed upon deserving students so that they might be able to pursue their education and training in performance and production. We have reached the $25,000 endowment level for the John Shearin Memorial Fund, an important goal we have been working towards for John's memory as well as our future scholarship recipients. Please know that donors can still contribute to the John Shearin Scholarship which will increase the endowment.
Shearin produced more than 195 plays and musicals for the ECU/Loessin Playhouse and Summer Theatre. He directed 72 productions and acted in about a dozen, several of which he significantly reconstructed or adapted for ECU's facilities and students.
In 2015, he was awarded ECU's Lifetime Achievement Award for Excellence in Research and Creative Activity, one of the most prestigious awards given by the university.
A Vietnam War veteran, Shearin graduated with a bachelor's degree in theatre from the College of William and Mary and received his master's degree of fine arts from Penn State University, where he worked with the touring and resident graduate company.
He appeared in network television shows including "Matlock," "Designing Women," "Dawson's Creek," "Hunter," "Little House on the Prairie," "American Gothic" and "Bret Maverick." Even as a working TV actor, he stayed involved in theater including stints on and off Broadway and in several Los Angeles area theaters, the Arena Stage in Washington, D.C. and the Loeb Drama Center in Cambridge, MA.
He was a founding member and associate director of the Los Angeles Playhouse West School of Acting.